Trusted legal counsel – Decades of experience
With over 30 years of experience and having successfully defended thousands of cases, including many jury trials, Paul Mergler is a highly qualified criminal lawyer equipped to handle even the most complex and serious of criminal cases. Mr. Mergler has the experience you need to protect your rights and freedom and he has appeared before every level of Criminal Court in Ontario. He is fluent in Spanish and has close ties with the Spanish community.
Mr. Mergler has secured acquittals for clients charged with murder, sexual assault and many other offences including…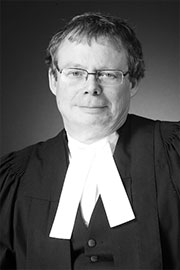 Assault
Drug Offences
Impaired Driving / Over 80 mgs
Dangerous Driving
Weapons and Firearms
Fraud
Theft
And All Other Criminal Matters
If you or someone you know has been charged with a criminal offence, call Paul Mergler Law…your solutions start here.
Professional Memberships
The Law Society of Upper Canada
Criminal Lawyers Association
Toronto Lawyers Association
The Peel Law Association
The Centre for Spanish Speaking Peoples (former Board Member and current member of the Legal Committee)
Education
Bachelor of Arts (Hons.), Concordia University, Graduated Magna Cum Laude
Osgoode Hall Law School, LL.B., Received the Ivan Cleveland Rand Scholarship for Highest Standing in Constitutional Law
Charged with a criminal offence? Call 416.232.9589 today